PRODUCT CATALOG
HOTLINE
86-13964895219
Name
OTV-EM56 4K H265 HDMI TO RF Encoder Modulator
Brand Name:
Dibview
Model Number:
OTV-EM56
Product name:
OTV-EM56 4K H265 HDMI TO RF Encoder Modulator
Input 1:
1HDMI
Output 1:
1HDMI Loopout
Video Encoding:
H.264/H.265
Output 2:
IP UDP, RTP/RTSP
Output 3:
DVB-C DVB-T ATSC ISDB-T
Audio delay function:
Yes, support
Product Description
Overview:
OTV-EM56 4K H265 HDMI TO RF Modulator is designed based on consumer electronics which allow HDMI signal input in TV distributions with applications in home entertainment, surveillance control, hotel Digital Signage, etc.
OTV-EM56 4K H265 HDMI TO RF Modulatoris an all-in-one device integrating encoding and modulating to convert audio/video signals into DVB-C/DVB-T/ISDB-T/ATSC RF out.
The signals source could be from STB, satellite receiver, closed-circuit television cameras and etc. Its output signal is to be received by TVs or STBs etc.
Key Features:
HDMI input with H.265/H.264 video (4K encoding for H.265 only)

DVB-C/DVB-T/ISDB-T/ATSC RF OUT for order option

IP output over UDP, RTP/RTSP from the 100/1000M self-adaptive data port

Support AC3 Pass-through

Support OSD (logo/QR Code) insertion, logo in PPT form is available

Support CC (Closed Caption)/Teletext (CC is not available for H.265 at present)

Support Audio delay function

Support TS recording and playing via the USB disk (FTA 32)

LCD Screen for easy management
Technique Specifications:
Item

Description

HDMI Encoding Section

Video

Encoding: HEVC/ H.265,MPEG 4 AVC/H.264

Interface: HDMI*1. HDMI loop out*1

Resolution: 3840*2160_60/50P(H.265 only),

1920*1080_60/59.94/50P,

1280*720_60/59.94/50P,

Chroma: Input:4:4:4/4:2:2; output:4:2:0

Bitrate: 2Mbps~20Mbps

Audio

Encoding Format: MPEG-1 Layer 2,

LC-AAC, HE-AAC, HE-AAC V2;

AC3 Pass-through

Sample rate: 32KHz,44.1KHz,48KHz

Bit-rate:

48Kbps~384Kbps (MPEG-1 Layer 2 & LC-AAC)

24 Kbps~128 Kbps (HE-AAC)

18 Kbps~56 Kbps (HE-AAC V2)

RF Modulation

DVB-C Modulator Section

Standard: J.83A (DVB-C), J.83B

MER: ≥40dB

RF frequency: 100-1000MHz, 1KHz step

RF output level: -20~ -5dBm, 1dB step

Symbol rate: 5.000~7.000Msps adjustable

J.83A Constellation: 16/32/64/128/ 256 QAM

J.83B Constellation: 64/ 256 QAM

J.83A Bandwidth: 8M

J.83B Bandwidth: 6M

DVB-T Modulator Section

Standard: DVB-T COFDM

Bandwidth: 6M, 7M, 8M

Constellation: QPSK, 16QAM, 64QAM

Code rate: 1/2, 2/3, 3/4, 5/6, 7/8

Guard Interval: 1/32, 1/16, 1/8, 1/4

Transmission Mode:2K, 8K

MER≥35dB

RF frequency: 100-900MHz, 1KHz step

RF output level: -63~ -16dBm, 1dB step

ISDB-T Modulator Section

Standard: ARIB STD-B31

Constellation: QPSK, 16QAM, 64QAM

Guard Interval: 1/32, 1/16, 1/8, 1/4

Transmission Mode: 2K, 4K, 8K

Code rate: 1/2, 2/3, 3/4, 5/6, 7/8

RF frequency: 100~900MHz, 1KHz step

RF output level: -63~ -16dBm, 1dB step

ATSC Modulator Section

Standard: ATSC A/53

Constellation: 8 VSB

RF output level: -63~-16dBm (44~91 dBµV), 1dB step

MER: ≥35dB

RF frequency: 100~900MHz, 1KHz step

RF output level: -63~ -16dBm, 1dB step

IP output

IP out over UDP (Unicast/multicast),RTP/RTSP, (RJ45, 100M/1000M self-adaptive)

System

Management: Web-GUI, LED+Keyboard

Language: English

Upgrade: Web update

The Working Environment

Power Supply

DC12V

Power Humidity

9~ 89% non-condensed

Operation temperature

0 -50°C

Storage temperature

-20-80°C

Dimensions

203mm x 144mm x 52mm

Weight

0.9Kg
Appearance and Description: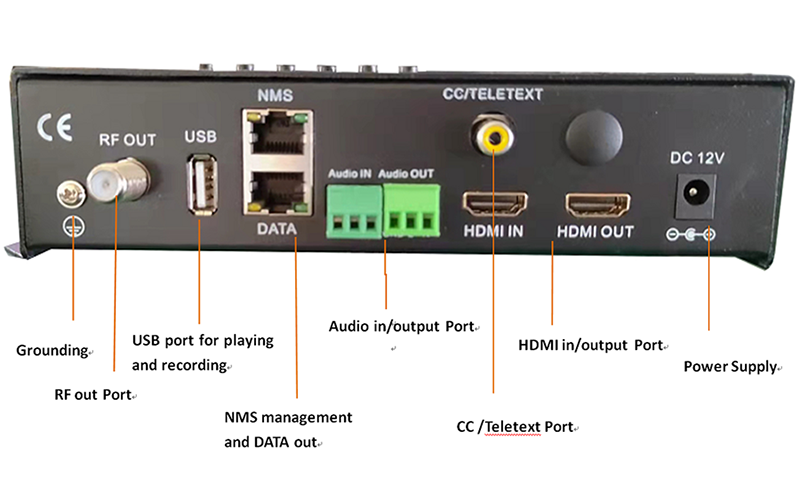 Key Application: