PRODUCT CATALOG
HOTLINE
86-13964895219
Name
OTV-NC2 4K HDMI IPTV Streaming Encoder
Brand Name:
Dibview
Model Number:
OTV-NC2
Product name:
IPTV Streaming Encoder
Input:
2HDMI
Output:
1HDMI
Video Encoding:
H.264/H.265
USBcam:
Yes, support
Application:
Live streaming, TV production
Picture in Pitcure:
Yes, support
Product Description
Overview:
Dibview OTV-NC2 ProVideo IPTV Streaming Encoder features high performance, low latency and low bit rates for IPTV/OTT systems, realized Video & Audio real-time transmission via internet, and adopts state-of-the-art compression technology of H.265/H.264/AVC, which realizes its resolution to be up to 4K 30fps. With powerful video pre-compression and efficient adaptive video compression algorithm, it is able to provide clear-delicate, high quality video even at lower bit rate within limited bandwidth.
OTV-NC2 ProVideo IPTV Streaming Encoder accepts 2*HDMI input and 1*HDMI Output, it can support HDMI and USB Camera input at the same time. Besides this, it can support Picture in Picture function.
OTV-NC2 ProVideo IPTV Streaming Encoder provides fully functional second development package, which can be applied to education, health care, IPTV, conference, remote education, news interview, court, public security, banking, transportation and other industry application.
Key Features:
Video Input: 2-Channel HDMI

Support 1*HDMI Output

Video Compression: HD H.264/H.265/MPEG-4 AVC, up to 4K@30fps

Support in Picture in Picture function, real-time Switching, support for mixing

Providing HDMI and USB signal source input combine together

Insertable of logo, water mark, subtitle, rolling caption, mosaic, time stamp

Transmission mode: TCP, UDP, 1000M/100M (RJ45 duplex network port)

Bitrate mode: CBR/VBR/AVBR

Capable of image parameter settings

Configurable of Multi-Screen, Multi-Protocol, Low bitrate with high quality image.

Providing SRT/HLS, RTSP/HTTP/UDP or RTMPs protocol

Any iOS browsers (iphone, ipad, MacBook etc) are able to have streams from IPTV Streaming Encoder in Anytime, Anywhere by HLS protocol without install any software players.

Any terminal devices/decoders are able to have streams from IPTV Streaming Encoder directly by RTMPs protocol with software players(such as VLC)

Support HDCP protocol (for HDMI input)

System supports WINDOWS XP/VISTA/SERVER2003/SERVER2008/WIN7 32 and WIN7 64, LINUX

Web-based management.
Technical Specifications:
Item

Description

Video Processing

Video compression: H.264/H.265/AVC High/Main/Baseline Profile Level 4.0/Mjpeg/JPEG Baseline

Frame rate: Up to 4K 30fps

Video inputs: 2*HDMI (HDCP protocol)

Resolution: 4K 30fps

1920x1080,1680x1056,1280x720,1024x576,850x480,720x576,720x540,720x480,

720x404, 704x576,640x480 auto

Bit-rate: Max.40Mbps, CBR/VBR, AVBR

Video pre-processing: Noise reduction, Sharpen, Filtering

Audio Processing

Audio compression: AAC, MP3, MPEG2, PMCA, PMCU

Sampling rate: Adaptive, selectable of re-sample

Sampling accuracy: 24-bit

Bit Rate: 24Kb/s~64Kb/s

Sampling Rate: 48KHz, 44.1KHz, 32KHz, 16KHz, 8KHz

IP Output

Transport protocol: TS over IP output, SRT/HLS,RTSP/HTTP/UDP or RTMPs protocol

Support USB Wifi Module/4G Module for optional

Management

Configuration Interface: Web-based

Upgraded: via network

Connector: RJ45, 100M/1000M Ethernet interface.

The Working Environment

Voltage: 12V 2A

Consumption: Less than 15W

Operating temperature: 0~45℃(operation), -20~65℃(storage)

Dimensions: 140mm(W)*130mm(D)*30mm(H)

Net weight: 0.4kg/pc
Applications:
Network video and audio broadcast based on IP protocol.
Suitable for all kinds of video conference software developers, system developers to do the acquisition end
Suitable for educational network, campus network TV broadcast, multimedia classroom broadcast, multimedia conference broadcast, and enterprises and institutions internal conference broadcast and other occasions
Live broadcast for various IPTV Server/live platform(Wowza/Youtube/Ustream/CDN/......)
Applicable to video live broadcast business of government, media industry & other portal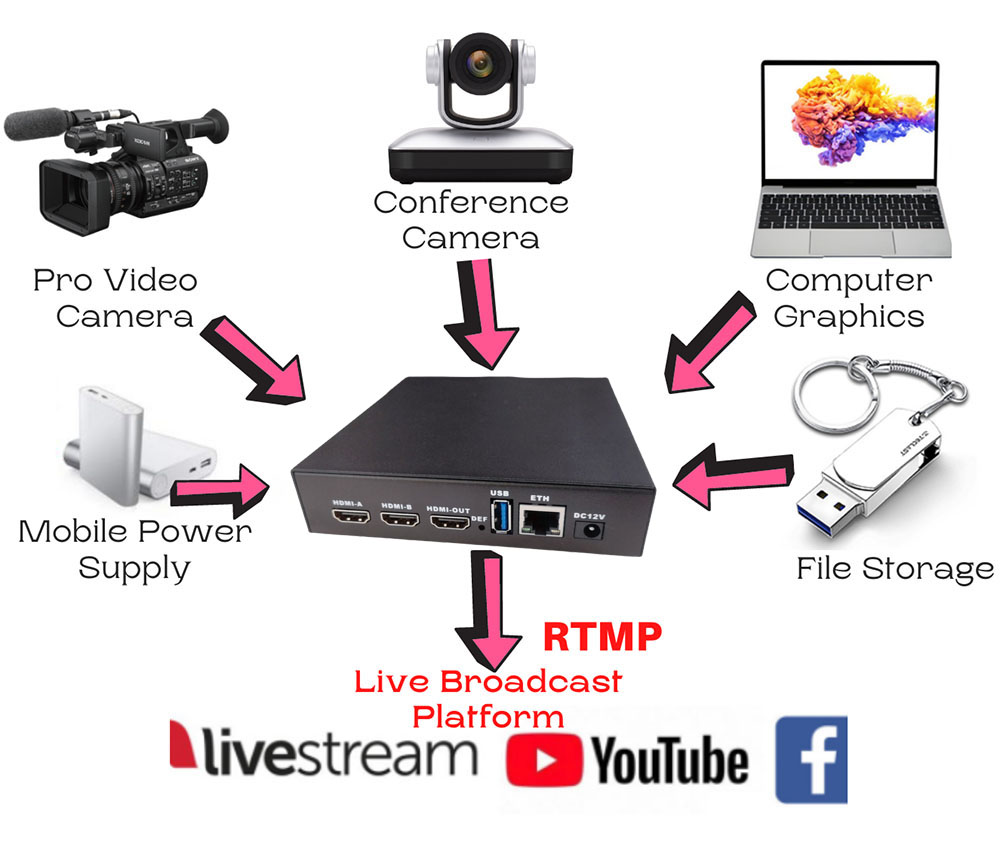 Key Diagram: