PRODUCT CATALOG
HOTLINE
86-13964895219
Name
OTV-H2658 H.265 HEVC 8 In 1 HD Encoder with ASI out fujitsu chipset
Brand:
Dibview
Model:
OTV-H2658
Product Name:
H.265 HD Encoder
Encoding:
H.265/HEVC, MPEG-4 AVC/H.264
Input:
4/8/12 HDMI Input
Support:
Up to 4K 30P
CBR video bitrate mode:
Yes, support
IP Output:
1/2/3 MPTS & 4/8 SPTS over UDP and RTP
Output ASI:
Sure support
Product Description
Overview:
OTV-H2658 H.265 HEVC 8 In 1 HD Encoder is a professional HD audio & video encoding and multiplexing device. It has HDMI Channels (4/8/12 HDMI optional) video input interfaces, supporting H.265 video encoding and MPEG 1 Layer 2 audio encoding.
OTV-H2658 HD Encoder can simultaneously encode (4/8/12 HDMI optional) channel HD audio & video; moreover, it has an IP output port can support 1MPTS and (4/8/12 SPTS) IP out.
In conclusion, its high integrated and cost effective design makes the device widely used in varieties of digital distribution systems such as cable TV digital head-end, satellite digital TV broadcasting etc.
Key Features:
Support 4/8/12 HDMI 1.4 input, HDCP 1.4

Support H.265/HEVC and H.264/AVC video encoding

Support up to 4K 30P input

Support CBR video bitrate mode

Support MPEG1 Layer 2 audio encoding

Support IP Output 1/2/3 MPTS & 4/8 SPTS over UDP and RTP; IP null packet filter

Real-time output bit-rate monitoring
Technical Specifications:
Item

Description

Input

4/8/12HDMI inputs ( 4/8/12 input for optional)

Video Resolution

Input

3840x2160_30P, 3840x2160_29.97P

1920×1080_60P, 1920×1080_59.94P

1920×1080_50P, 1920×1080_30P

1280×720_60P, 1280×720_59.94P

1280×720_50P, 1280×720_30P

Encoding

H.265/HEVC, MPEG-4 AVC/H.264

Bit-rate

0.5Mbps~15Mbps each channel

Rate Control

CBR/VBR

GOP Structure

IBBP (low bitrate) IPPP

Audio Encoding

Encoding

MPEG-1 Layer 2

Sampling rate

48KHz

Resolution

24-bit

Bit-rate

48kbps~384kbps each channel

Audio Gain

0~255

Stream Output

1/2/3 MPTS and 4/8/12 SPTS output over UDP/RTP, 1000M/100M Base-T Ethernet interface (unicast/ multicast)

IP null packet filter

System Function

Network management(WEB)

Chinese and English language

Ethernet software upgrade

The Working Environment

Warranty

3 years with free telephone support

Power Supply

AC 100V-220V±10%, 50/60Hz

Power consumption

75W

Operation temperature

-10 -50°C

Storage temperature

-20-80°C

Dimensions

482mm x 328mm x 45mm

Weight

4.1Kg
Key Diagram: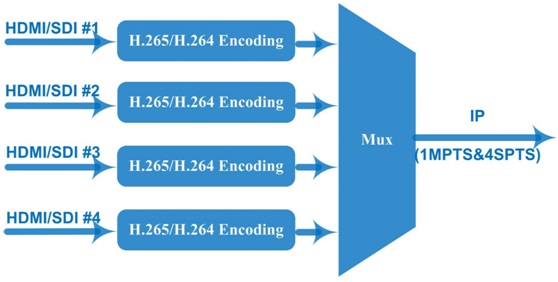 H.265 Advantage:
1. High Compression Ratio:
TS (1080P)

Video Bitrate

1M

1.5M

2M

Audio Bitrate

128kbps

128kbps

128kbps

PAT, PMT, SDT, table

640kbps

691kbps

896kbps

Total Bitrate

1.75M

2.3M

3M
2. Save Frequency:
| | | |
| --- | --- | --- |
| Video Format | Mpeg-4 HD | H.265 HD |
| Bitrate | 8M | 3M~4M |
| Program No. | 2 | 5~7 |
3. High Quality Picture:
| | | |
| --- | --- | --- |
| | 1 Set SD Program | 1 Set HD Program |
| Video format | H.264 | H.265 |
| Bitrate | 3M/4M | 3M/4M |